About Wantok
Wantok, a word from the Tok Pisin language of Papua New Guinea, literally means "someone who speaks my language", which by implication means someone from the same village or nearby, and by extension a friend or a mate. We, a group of veteran international river runners, chose the name to celebrate the spirit of camaraderie that brought us together.
We are not a business in the traditional sense. We cooperate to create and market exciting river trips.
Our goal is to bring you great whitewater at great values, maintaining the highest standards of professionalism and safety on the water while minimizing the tendency towards luxury of the large adventure companies. We think trip participants are fully capable of being a bit more self-reliant, that 3-4 star hotels with lots of local flavor are preferable to the big chains, that a great meal in a lively local restaurant is more enjoyable than the same meal in a fancy tourist place, and that a sense of adventure should be part of every trip.
The guides involved are some of the most experienced international whitewater and general adventure travel guides in the world. Our combined experience totals in the hundreds of years, allowing us not only to select the very best trips and local operators available today, but to run trips to the highest standards of safety and quality.
Some of the guides working with Wantok are: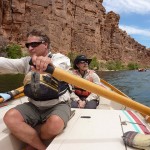 Bruce Keller
Bruce's 30 years of guiding have taken him around the world, paddling and rowing the most challenging whitewater run commercially. No use listing rivers, there are too many to bother. In addition to guiding rivers, Bruce is a heli-ski guide and a ski instructor. He is a great story-teller, and a rapid fire jokemeister. His enthusiasm is infectious and never fails to raise the spirits of all on any trip.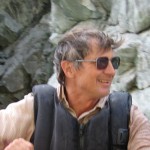 John Yost
John co-founded Sobek Expeditions in 1973, and spearheaded the exploration by raft of most of the major rivers around the world. He continues to push the boundaries of rafting, not only reviving many of the classic trips of yore, but always on the lookout for new rivers to explore too. His encyclopedic knowledge of raftable rivers and of local whitewater outfitters around the world make it easy for Wantok to zero in on the very best available adventures. In recent years he has branched out into sea kayak, trek, and general adventure guiding.
JJ Yost
Not surprisingly, JJ has accumulated a world of experience is his thirty years. He's already guided whitewater rafting trips on four continents, starting with an epic stint rowing a baggage boat on the Tatshenshini in flood before he was 18. He kayaks, surfs, climbs, mountain bikes and generally tackles any physical challenge that comes his way. He even somehow finds time to work with the company he co-founded, Two Crows Ecological Design. He's eager to become a bigger part of Wantok as new trips are added around the world.
James Ellsworth
James has a passion for wilderness rivers and teaching people about the natural world. He has worked (as both an expedition leader and manager) in the international Adventure Travel industry for two decades, and has owned Middle Fork River Expeditions since 2007 after working on the Middle Fork since 2000. James worked as a scientist in Grand Canyon National Park, using photos to study sandbar stability through varying flow regimes from Glen Canyon Dam. He also helped organize River Guide Training on the Great Bend of the Yangtze River in China with The Nature Conservancy and coordinated logistics with National Geographic and IMAX Films in Ethiopia on the Blue Nile River. James is delighted to be on the President's Council at The Wilderness Society and supports groups such as Trout Unlimited and Idaho Rivers United. James founded Eco Family Adventures in 2006 which offers International destinations such as Costa Rica and Galapagos. Although James has rafted throughout the globe, he has a special place in his heart for the Salmon River canyons which he enjoys to share with all who travel with MFRE.